CONVERSION:

BOOKLET OF GENERAL PLANS AGS22




(Courtesy of

Wayne "Rick" Hollis

)


These blueprints represent ships' architecture and the OcUnit living and working spaces as of

ca.

November 1958, when the T-AGS were converted from Victory cargo ships to AGS ships. Annual yard periods resulted in changes to these spaces. A major yard period,

ca.

1963, made significant changes to OcUnit working spaces.

Plate No. 1: Title Page





Click to enlarge.

Plate No. 2: General Information Data

Plate No. 3:




Cabin Deck - 02 Level




Bridge Deck - 03 Level -

Survey Control Center




Top of House - 04 Level -

"Old" NIC




05 Level

Plate No. 4:




Gun Platform




Foc's'l Deck




Boat Deck - 01 Level -

Officer's Mess

Plate No. 5: Main Deck
(Missing print)
Plate No. 6: Outboard Profile
Plate No. 7: Inboard Profile
(Missing print)

Plate No. 8: Second Deck and Stores Flat




OcUnit Berthing




Crew's Lounge




Sick Bay, Hospital

Plate No. 9: First Platform and Machinery Flat




Hydro Plot




OcUnit Office




Photography Lab, ET Shop, Storeroom

Plate No. 10: Hold




Gravity Meter Room




Sonar Room

Plate No. 11: Inner Bottom
OCUNIT SPACES:
Elevation cross-section of a
VC2-S-AP3
Victory, modified to represent conversion to a T-AGS-21,22,23. The capacious cargo holds were converted to serve as working and berthing spaces for the embarked Oceanographic Detachments (later, Units).
These spaces varied slightly between ships, and will have varied over the lifetimes of the ships.
This drawing is supposed to be generally representative of Bowditch, Dutton and Michelson ca. 1966-1972.
To my horror, I have actually forgotten the exact placement of the working and berthing spaces. In addition, each ship generally had a photo lab, gym, movie lounge, and storage space. CRS (Can't Remember Shit) syndrome has also cleared my memory of how many 'tween decks were in each cargo hold. Hopefully, help will arrive soon. The ships also had a "hospital", for emergency use, with, if memory serves (which it usually doesn't) about 12 rack-style beds, plus a basic operating room.
OcUnit Spaces:
NIC (Navigation Information Center) was the major OcUnit operations space on the 3rd Deck of No.3 Hold.
Sonar and HYDROPLOT (thanks to Chris Smoot for the correct space name) were the major OcUnit operations spaces on the 4th Deck of No.3 Hold.
Survey Control was the major OcUnit operations space on the 03 Level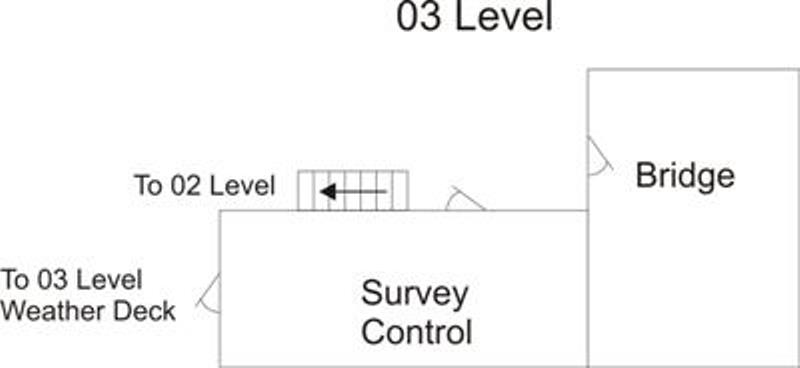 Berthing for Navymen
, Oceanographers and Tech Reps was on the 2nd Deck of No. 3 Hold. Additional berthing was on the 2nd Deck of No. 2 Hold, but I do not have sufficient info to draw a diagram. I believe that the OcUnit officers were usually berthed there.
Drawings will be added of each major configuration change over the lifetime of the program.
THE CREWS:
The ships were manned by four distinct groups or organizations. Details will have varied slightly from ship to ship and, probably significantly, over the lifetime of the program. These listings are for Bowditch, Dutton and Michelson during the period ca. 1966-1972.
MSTS (Military Sea Transportation Service), later MSC (Military Sealift Command).

See

Carl Friberg's

discussion of MSTS crew.

MSTS/MSC provided the Master (ships' Captain), ships' officers, and merchant marine crewman, all of whom were U.S. Navy civilian civil service employees. These men navigated and maintained the ship (this info is from Carl Friberg - see his complete commentary

here

).

Master (only on government owned ships is the Captain (Master) listed on the crew list.
1
1st Officer (Licensed as Chief Mate, MSTS preferred "Officer".)
1
2nd Officer (Licensed as Second Mate)
1
3rd Officer (Licensed as Third Mate)
1
4th Officer
1
Chief Engineer
1
First Assistant Engineer
1
Second Assistant Engineer
1
Third Assistant Engineer
1
Fourth Assistant Engineer
1
Three Oilers
3
Three FWT ( Fireman Watertender)
3
Two Wipers
2
Chief Electrician
1
Second Electrician
1
Reefer Engineer
1
Machinist
1
Plumber
1
Bos'n ( The Boatswain - Bos'n was ordinarily an Able Seaman)
1
Carpenter (ordinarily an Able Seaman)
1
Two ABMs ( Able Seamen Maintenance ) Day workers.
2
Six ABs ( Able Bodied Seamen ) - Watch Standers.
6
Three Ordinary Seaman
3
Chief Steward
1
Chief Cook
1
Second Cook and Baker
1
Third Cook
1
Galley man ( Messman level who worked in the galley)
1
Two Crew Messmen
2
Two Officers' Messmen
2
Two Utility Men (Messman entry level rating - made bunks, and cleaned rooms, and passageways.)
2
Laundryman
1
Purser
1
Junior Purser
1
Three Yeoman
1
Radio Officer ( R/O )
1

TOTAL (initial, see commentary):

52
United States Navy:

The Navy manned an Oceanographic Detachment/Unit, one for each ship, numbered One, Two and Three and embarked aboard T-AGS-21, -22 and -23, respectively. The Oceanographic Units provided the technical personnel to operate and maintain the electronics navigation systems, sonar systems and gravitometric or magnetometric equipment.

This Navy contingent changed from a "Detachment", with an Officer in Charge, to a "Unit", with a Commanding Officer, sometime around May of 1966.

OcUnit Navymen stood around the clock watches to provide accurate updated navigation data and SASS sonar data to the NAVOCEANO oceanographers.

We generally had enough technical Petty Officer ratings, mostly ETs with a few STs and ICs, to fill out three or four watches while working regular 8-hour days at sea. In practice this varied so widely, based on the individual preferences of the Unit officers, and the whims of BuPERS, that it is difficult to generalize. At one time on Michelson, while I was an ET-1 and leading ET, we had only enough techs to man three watches--12 technicians total including myself, and we had lost our electronics CWO and ETC.

So with that variability in mind, here's the Navy manning for the period ca. 1966-1972.

Unit CO (OIC when a Detachment), an LCDR Oceanographer
1
XO, a junior officer, ensign or LtJG
1
Electronics officer, a CWO
1
ETC, senior enlisted technician (sometimes ET1)
1
Enlisted technicians (mostly PO3Cs and PO2Cs, perhaps 2-3 PO1Cs), mostly ETs, a few STs and ICs, enough for 3 or 4 watches plus a few not assigned to watchstanding duties
16
Radioman, RM1
1
Yeoman, YN2 or Personnelman PN2
1
Corpsman, HM1 or HMC
1
Photographer PH2 or PH1
1
Storekeeper SK2
1
Quartermaster QM *

TOTAL:

25
* - The OcDETs carried Navy quartermasters until this rating was removed from the crew list with the advent of electronic navigation in ca. 1963.
Navy Oceanographic Office NAVOCEANO
Made the ocean bottom topography maps, and directed survey operations from Survey Control.
Senior scientist
1
Oceanographers
11

TOTAL:

12
Civilian Technical Representatives.
Electronics engineers from General Instruments, Bunker Ramo, Sperry, perhaps others.
TOTAL:
7

GRAND TOTAL CREW:

96