Namesake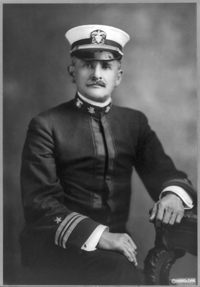 USNS Michelson was named in honor of CDR Albert A. Michelson, USNR.

President Ulysses S. Grant awarded Albert A. Michelson a special appointment to the U.S. Naval Academy in 1869. During his four years as a midshipman at the Academy, Michelson excelled in optics, heat and climatology, and drawing. After his graduation in 1873 and two years at sea, he returned to the Academy to become an instructor in physics and chemistry, from 1875 to 1879. During this time in Annapolis he conducted his first experiments of the velocity of light, as part of a class demonstration in 1877.

Although Michelson resigned from the Navy in 1881 to pursue a career in physics, he remained dedicated to and involved with the Navy. From 1891 to 1919, Michelson designed for the Bureau of Ordnance optical range-finders and ear protectors, which were patented and later used for ear protection during gunfire. From 1895-1900, he served as commander of the First Battalion of the Illinois Naval Reserve, which he helped organize. During World War I, Michelson was the head of the scientific research committee at the University of Chicago and served as a lieutenant commander with the Bureau of Ordnance as a scientific consultant. Michelson enrolled in the United States Naval Reserve Force on June 28, 1918 for four years. In May 1919, Michelson was promoted to Commander in the Naval Coast Defense Reserve Class.

Albert Michelson was awarded the 1907 Nobel Prize in Physics for his optical precision instruments and the spectroscopic and metrological investigations carried out with their aid.
TAGS Ship Website Home Page