Squashed Styrofoam Cup
| | |
| --- | --- |
| A squashed styrofoam cup, with a DOS EQUIS bottle for size comparison. A favorite passtime was to send these cups down to the ocean depths attached to the Velocimeter cable during Ocean Stations. Yes, water pressure really does increase with depth! | |
My 1972 Journal
Selections from my 1972 journal.

Ship's movement listing for Bowditch (Dec 7, 1971 - Jul 25, 1973) and Michelson (Aug 31, 1973 - Mar 19, 1974)

Selected pages from Sep, 1972, including an account of the salt water flood in my stateroom.
My Bunker-Ramo Cruise Report
October 7, 1972
I submitted a Cruise Report for each Survey cruise and inport period to the CO, OcUNIT ONE. This one is also copied to John Handal.

This one includes a report of the modification of the front panel of the SASS CP677.

Noteworthy also, the number of BRN-3 satellite passes attempted: 470, with 89.1% yielding good geographic position data.
Frog's English Pub Group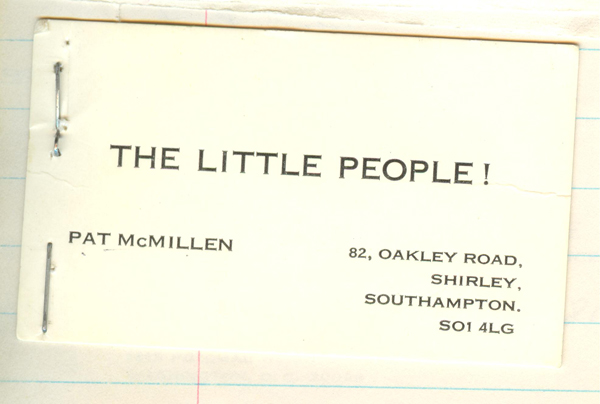 This Frog's pub group business card is kind of meaningful to the Bowditch. You have several photos on the site in Bowditch Cruise Books and other places around Southampton that show Carroll "Frog" King playing or singing with Pat, the guy in the card. Pat had curly hair and was stocky, so he's easy to spot. We all met Pat in a Southampton pub, where he and his wife Maggie played drinking songs. It didn't take long before Frog and I were bringing our guitars to play and sing with them. That was a fairly common theme for our Southampton inports. (That's Maggie with Frog on page 9 and 14 of the August '73 Cruise Book. Frog playing with Pat on page 10.) More photos of Maggie, Pat and Frog are here.
Cruise Book Pasteups
I preserved 100 original pasteup pages used to produce the Bowditch Cruise Books, ca. 1970-1973. Stored in this notebook in document protectors, many of the pages have discolored over the years, but the B&W photographic prints have survived in remarkably good condition. Some are of such high quality that they can be enlarged and presented separately. See the Bowditch photo pierside in La Coruna, Spain, May 1972, taken from page 5 of the notebook.