A note about the layout drawings shown above (labeled plates 1, 2, 8 and 9):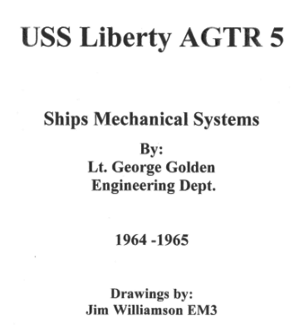 These are taken from a set of drawings made in 1964 of the mechanical systems aboard technical research ship USS Liberty, a modified Victory VC2-S-AP3 hull, originally built as SS Simmons Victory in 1945. This was the intelligence gathering ship attacked and nearly sunk by Israeli forces during the six day war in 1967, with 34 American sailors killed and 171 wounded.
The USS Liberty drawings reflect the original SS Simmons Victory mechanical systems with two main exceptions.
The electrical system was changed to alternating current (AC). The original two 120/240 volt DC turbo generators were removed and replaced with three 450 volt three phase turbo alternators driven from the 450 pound steam system. Air conditioning machinery was also added. Otherwise the drawings are reasonably accurate depiction of how a Victory ship's systems functioned.