All About Victory Ship Conversions:
Most of the 550+ Victory (VC2) class vessels built in 1944 and 1945 were completed as cargo ships for the merchant marine. Others were fitted out as troop carriers and Navy attack cargo ships (APAs). Only a few were lost in the waning days of WW II. After the war ended some were laid up, only to be recalled to active duty during the Korean conflict and the Vietnam war.

As originally constructed, VC2-S-AP2 and VC2-S-AP3 Victory ships looked like this.
Other Victory ships were repurposed, converted to other uses, both military and civilian. SS Joliet Victory became survey ship USNS Michelson in 1958 and kept on steaming until 1975. Sister ships Bowditch (ex. SS South Bend Victory) and Dutton (ex. Tuskegee Victory) remained in service until the late 1980s.
Some Victorys were converted for use as passenger carrying freighters. Some became emigrant transport vessels, with austere accomodations for frugal travelers as well displaced persons in the aftermath of WW II. Several Victory hulls were eventually refitted as cruise ships.
Two Egyptian Victory Ships

Quoted from Ocean Liners: An Illustrated History, by Peter Newall, published 2018 in UK:

"The first Victory ship to be delivered in February 1944 was United Victory. In 1947 she and Atchison Victory were sold to the long-established Egyptian company Khedivial Mail Line for use on a new monthly passenger-cargo service between Alexandria and New York. They were both extensively reconditioned at the company-owned yard in Alexandria into the ninety-eight first class-only, 8,190 gross ton, 17-knot Khedive Ismail and Mohamed Ali El Kebir.

Although the ships retained their distinctive Victory-ship profile their wood paneled interiors were stylish and modern. Many cabins had private bathrooms whilst on the boat deck there was a swimming pool and veranda cafe. At some stage air-conditioning was also installed.

After President Nasser became president of Egypt in 1956, Khedive Ismail was renamed Cleopatra and five years later Khedivial Mail was nationalised. Cleopatra was sold to breakers in 1981 whilst her sister was badly damaged during a fire in 1965 and was scrapped in Spain."
SS Cleopatra, ex. SS Khedive Ismail.
SS Cleopatra, ex. SS Khedive Ismail, was built at Portland, Oregon in 1944 as SS United Victory, a VC2-S-AP3 vessel it was the first Victory ship constructed. Operated by the Egyptian steamship company Khedivial Mail Lines, it ran aground at Gibraltar in June 1960. It was salvaged and returned to service.
Schedule for the more or less monthly service from New York to Alexandria and
other Mediterranean ports. From the late 1950s.
Khedive Ismail was the second ship bearing that name. The first, a British operated troopship, was torpedoed and sunk in the Indian Ocean by a Japanese submarine in 1944 with the loss of 1296 lives.

The sister ship to the second SS Khedive Ismail, SS Mohamed Ali El Kebir, was constructed in California as the VC2-S-AP3 (8500 hp) SS Atchison Victory, was renamed the SS Salah el-Din in 1960. It was damaged by a fire while in the St. Lawrence River in 1963. After repairs, it was renamed SS Mercantile Victory, sailing under the Liberian flag. In 1964, while in the Red Sea, it once again caught fire and was towed to Suez and taken out of service.
1958 fare schedule for Khedivial Mail Line's service from New York to Mediterranean ports.
Illustrations from sales material c. late 1950s.

From the company's December 1958 travel brochure:

"The Egyptian Flagships SS "MOHAMED ALI EL KEBIR" and SS "CLEOPATRA" are now starting their twelfth year in the United States/ Mediterranean Middle East Service. These 16 knot sister ships, each 445 feet long and 62 feet wide, have earned the reputation of fine service for both tourists and business travelers.

The staterooms, situated amidship, accommodate one, two, or three persons each. All are outside; many have private bath. Commodious public rooms, beautifully furnished, contain every convenience for pleasant traveling. The smoking room and bar, which opens out to the veranda deck overlooking the promenade, is furnished in modern decor with wide leather divans and soft indirect lighting, suggesting ease and relaxation. On the main deck the large, luxuriously appointed lounge, with its deep upholstered chairs and intimate groupings, is the gathering place for those who enjoy music, cards or quiet conversation.

Passengers may participate in deck sports or enjoy a refreshing plunge and sunbath on the broad promenade deck with its attractive swimming pool. The softly lit dining salon, with individual tables for small groups, invites travelers to relax and enjoy the efficient, courteous service and the famed Khedivial Mail Continental cuisine."

Two Sitmar Victory Ships
Sitmar, an Italian steamship company, operated two converted Victory hulls from 1947 until 1957. Officially known as Compannia Argentina Navegacion de Ultramar, Sitmar was controlled by Alexander Vlasov, an emigrant from Russia, who chose a large letter "V" as his house (funnel) insignia.

SS Wooster Victory and SS Vassar Victory, both 6000 hp VC2-S-AP2 vessels, became SS Castel Verde and SS Castel Bianco. Their home port was Genoa. Both saw service as passenger/cargo ships, initially transporting displaced persons and other emigrants from Europe to South America and Australia. Other voyages included Shanghai to Cape Town in December of 1948, with Russian and Jewish passengers escaping the the Maoist revolution in China.

Both ships were rebuilt and refitted several times. Their photos look quite different, taken at various stages in their useful life, from cargo ships to cruise liners.
SS Wooster Victory, later SS Castel Verde, as built in 1945.

SS Castel Verde in Naples, May 1950.

SS Castel Verde after rebuilding in 1953.

In 1948 SS Castel Verde was sold to Compania Transatlantica Espanola S.A. a/k/a The Spanish Line.
After another refitting it was renamed SS Montserrat, operating as a cruise ship out of Southampton,
catering to a British clientele.

SS Vassar Victory, renamed SS Castel Bianco, was sold to The Spanish Line and rebuilt again in 1957.
It appears here as a cruise ship, renamed SS Begona.
An additional deck was added, making it taller than SS Montserrat.

An extensive history of the Sitmar/Spanish Line Victory ships can be found on the most informative website of the self described "maritime historian, cruise'n'ship reviewer and author" Reuben Goosens. Go to https://ssmaritime.com/sitmar0.htm.
Three Dutch Victory Ships
Of the Victory type (VC-2) ships built in 1944-45, 97 hulls were completed as troopships, but retained all their cargo rigging, booms, masts and kingposts for eventual restoral to use as freight carriers. This decision was wise, as the postwar need for troopships would not last long while cargo vessels were in continuing demand.
Three of these 97 troop carriers had a very different future. In 1947 the government of the Netherlands bought these VC2-S-AP3 vessels for use as troopships, naming them for celestial constellations:
SS La Grande Victory was renamed Waterman, meaning Aquarius, the water carrier.
SS Cranston Victory became Zuiderkruis, Southern Cross.
SS Costa Rica Victory took the name Groote Beer, Ursa Major, the Great Bear.
At left, SS Groote Beer (Great Bear) prior to conversion and as an emigrant ship (right).
In 1951 all three were converted to emigrant transport ships in Dutch shipyards. Each reconfigured for about 900 passengers, they carried people leaving post war Europe to settle in Canada, Australia and the USA. Ownership went to three Dutch companies, represented by Holland America Line in the US market.
Major changes were made, but the basic hull remained the same. Superstructures were pushed forward over the number three hold and decks were added aft. Passenger accommodations were spartan, mostly in dormitory rooms and 6/8 person family cabins. The dining rooms looked more like mess halls.

The Dutch Victory ships eventually turned to the student travel business and carried other cost conscious travelers as well up until 1963 when they were sold.
SS Zuiderkruis (Southern Cross) ex. Cranston Victory 1951-63.
SS Groote Beer's history has extensive documentation on the internet. Many Dutch and other european emigrants have written of their experiences aboard the ship and how their lives changed after departing the "old country", whichever it might have been.

There is a Michelson connection to all of this.

When Michelson was returning to the US on September 13, 1963 headed for the Brooklyn Army Terminal, and the Navy Yard, another ship was headed outbound, passing on our port side. One of the navy guys said "Look ... that's a Victory ship". I asked him how could he tell, because it looked to me very much like a passenger ship.

The distinctive raised bow (forecastle) was the first clue, followed by a look at the stern's rounded design. Yes, it began its life as a Victory ship.

The other vessel was SS Groote Beer, the Great Bear, making its last transatlantic crossing under Netherlands government ownership, leaving New York headed for Rotterdam.
1954 and 1963 schedules for the Dutch Victory ships from the collection of Björn Larsson.
Three ALCOA Victory Ships
At the conclusion of the war in the Pacific in August 1945 contracts for new ship construction were cancelled. Three incomplete Victory class hulls at the Oregon Shipbuilding Corporation yards in Portland were acquired by the Aluminum Corporation of America (ALCOA) and completed in the spring of 1947 as US flagged passenger carrying cargo ships. Intended to transport bauxite (aluminum ore) and alumina (aluminum oxide) from Guiana and Surinam, the ships were fitted out to accommodate 95 first class passengers on Caribbean cruises.

Oregon Shipbuilding is where SS Joliet Victory, later renamed USNS Michelson, was built in 1944.

Alcoa Corsair, Alcoa Clipper and Alcoa Cavalier, classified as VC2-S1-AP7 vessels, were built on the partially completed steel hulls (455 feet long, 65 foot beam) with steam turbine power plants and aluminum superstructures.

The ALCOA Victory ships were unlike the three VC2 troopships converted to rather austere passenger vessels by Dutch interests. A photo of SS Alcoa Corsair shows a very different profile, hard to recognize as a Victory ship. Note the absence of king posts aft of number three hold and what looks like an additional deck forward.
Passenger/Cargo vessels SS Alcoa Corsair (left) and Alcoa Clipper were built on Victory (VC2) hulls.
SS Alcoa Cavalier under construction at Oregon Shipbuilding in 1946.
Operating on 18 day Caribbean itineraries, they sailed from New Orleans, with port calls at Ciudad Trujillo, La Guaira, Puerto Cabello, Guanta, Port of Spain, Curaçao, Kingston, San Juan and Mobile. The air conditioned passenger accommodations looked to be quite comfortable.
Sales brochures from from Alcoa Steamship Company. Note the swimming pool in the deck plan.

From

Famous American Ships

by Frank O. Braynard (1956).
A Coal Burning Victory Ship
Of the 500+ Victory Ships (VC2 class vessels) built during World War II all but one was constructed with oil burning boilers and steam turbines. The lone exception was the experimental Emory Victory, which was diesel powered.

So, while reading Jim Whalen's marvelous merchant marine oral history anthology Last of the Boom Ships, I was surprised to learn that there had been a Victory with coal fired boilers!

The author quotes Captain John W. Schindler:

"After joining the MM&P [Masters Mates and Pilots Union] in Providence, Rhode Island in June 1962, I lived in the YMCA. The forty dollars I had at graduation from New York Maritime ran out, and my parents wired me twenty-five more. My first ship was the SS Oakey L. Alexander, a coal burning Victory Ship built late in World War II ... operated by the Pocahontas Fuel Company. I felt competent with all the bridge equipment. However I had to develop confidence in my ship handling ability as we carried coal from Norfolk to Fall River, Massachusetts. My memory is of a dingy coal boat, where my clothes were always dirty.
A bit of research reveals that coal from the Pocahontas mine in West Virginia was hauled by rail to Norfolk, where it was loaded aboard ship for transport to ports in New England. Pocahontas had a small fleet of these coastal colliers, all having coal fired boilers. Schindler, then a third mate, was aboard the second ship named SS Oakey L. Alexander, the first one having gone aground and wrecked off the coast of Maine in 1947.
To replace the wrecked coal carrier, Pocahontas Fuel Company obtained the SS Laconia Victory, a VC2-S-AP2 built in 1945 but laid up due to boiler damage. The oil burning boilers were replaced with new coal fired ones and the ship extensively rebuilt. Cargo booms were removed and the holds were turned into coal bunkers. The ship used its cargo to fuel the boilers!
Accommodations were installed to carry eight passengers.
The second coal burning collier named SS Oakey L. Alexander (ex. Laconia Victory).
By October 3, 1948 conversion was complete and the resurrected Victory Ship began its new life as a collier. SS Oakey L. Alexander continued in that role until 1965 when it was sold to another coal company, renamed SS Marine Collier. It was finally scrapped in 1969.

The story of both ships named SS Oakey L. Alexander can be found here in the short article called "A Tale of Two Colliers".
Another photo of coal carrier SS Oakey L. Alexander.
At right, Pocahontas Steamship Company memorabilia. A uniform button, dinner plate and the house flag.
Pocahontas Steamship appears to have been the maritime arm of Pocahontas Fuel Company.
North to Alaska Aboard USMS North Star III
In 1962 the 1945 vintage SS Emory Victory, the only diesel powered Victory ship built (VC2-M-AP4), went into service as USMS North Star III. Operated by the US Department of the Interior's Bureau of Indian Affairs (BIA), it was used to supply remote native villages in Alaska.
The ship continued in this role until 1984, delivering building materials, freight and passengers from Seattle to Alaskan locations not served by commercial shipping.
Diesel powered Victory ship USMS (United States Motor Ship) North Star III, ex. Emory Victory, at Bremerton, Washington. Note the unusual tripod masts installed fore and aft.
North Star III carried its own lighterage, four WW II landing craft (LCM). A video shows the delivery of lumber and crated freight to an unnamed Alaskan location. A BIA press release describes delivery of 400 tons of building materials to 19 native families on a tiny island in the Bering Strait.
At left a landing craft at the beach while the ship is anchored off shore.
An LCM is lowered over the side into the water.
An LCM arriving at the beach. At the right it returns to North Star III.
By 1975 the 30 year old ship was in need of serious repair. Among a variety of problems, the maker of the diesel propulsion engine was no longer in business. Parts were impossible to find. A report on the vessel's condition can be seen here.

The BIA's operating rules include the conflicting and likely unenforcible "Officers and members of the crew on the vessel are prohibited from engaging in trade with the natives" and "Natives shall be employed on the 'North Star' to fill all positions for which they are qualified". Only government bureaucrats dream up such stuff.
Scotland's Donaldson Line
From 1948 to 1966 Donaldson Lines converted two Victory hulls for passenger and freight service between Glasgow and Montreal. SS Taos Victory became SS Lismoria while SS Medina Victory was renamed SS Laurentia.
From the photos it appears that passenger accomodations with portholes were added in the 'tween deck areas of number four hold. The superstructure is extended aft with the addition of two more lifeboats. The masts are taller, supporting HF radio antennas and additional kingposts are between number one and two holds.
SS Lismoria (ex. Taos Victory) converted for passenger/freight service.
.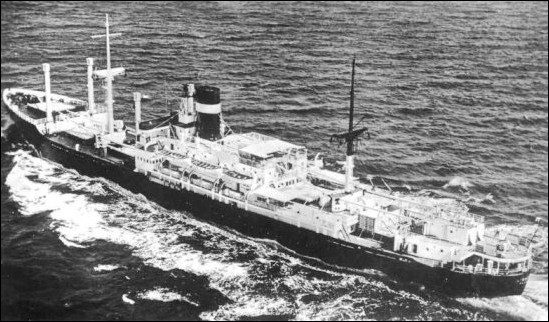 SS Laurentia (ex. Medina Victory).
Another view of SS Lismoria - kingposts added aft of number one hatch, superstructure
extended aft, portoles added and taller masts.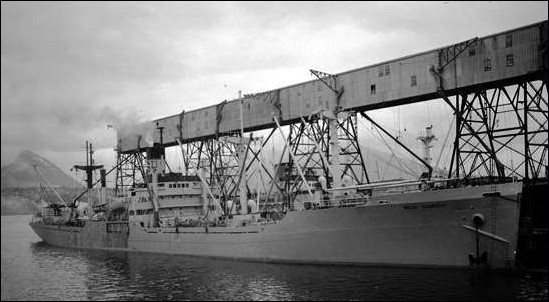 SS Sun Karen (ex. SS Colorado Springs Victory) at Vancouver in 1959.

In 1953 the former SS Colorado Springs Victory was transformed into a bulk carrier vessel. The photo above shows the ship, renamed SS Sun Karen, loading iron ore at terminal seven at the Port of Vancouver.
This ship sailed under the Norwegian flag for 10 years after which it became the Liberian SS Concordia. Note the retrofitted rectangular pilothouse windows. Victory ships, when built, had five forward facing portholes, providing a somewhat restricted view from the bridge for the mate and helmsman on watch.
In 1951, by cutting it in half forward of the engine room, the Cleveland-Cliffs Iron Company had the 455 foot long SS Notre Dame Victory transformed into the 619 foot long SS Cliffs Victory. In 1957, after another trip to the shipyard, the iron ore carrier was again lengthened to 716 feet.
At one time the fastest ore carrier on the Great Lakes, SS Cliffs Victory always attracted a lot of attention by virtue of its unusual appearance.

The ship was taken out of service in 1981 and scrapped in 1987. Its interesting history can be seen here,
The twice extended SS Cliffs Victory had bow thrusters and a forward deckhouse added.



SS Cliffs Victory (ex. Notre Dame Victory).
Postcard view of SS Cliffs Victory at Great Northern RR iron ore pier.
Container Ship Conversions

The first practical container ship conversions were WW II vintage vessels, a T-2 tanker and a C2-S-E1 former attack transport ship (APA).
Victory ships (VC2-S-AP2 or AP3) converted to container carrying vessels had a short useful life. They could carry just a few hundred containers fully loaded. The economies of scale indicated that bigger ships would be more economical to operate especially in the emerging era of global trade.
Both of the ships pictured below were converted in 1969, but were out of service by 1976.

Container ship SS Oriental Ace (ex. Rutland Victory).
The masts have been removed, with new masts installed above the deck house.
A new pilot house was constructed on the flying bridge level.
SS Oriental Destiny (ex. Kelso Victory).
Orient Overseas Container Lines along with other operators converted a number of Victory hulls to container ships. The Hong Kong based company, once led by the legendary C.Y. Tung, was merged into the state owned COSCO (China Ocean Shipping Group) in 2017.
Oriental Ace was scrapped in 1976 while Oriental Destiny developed a leaky hull and sank in the Northwest Pacific Ocean during the same year.